Online Building Management System is a web-based application developed in ASP.NET to automate rental building or apartment operations. The project mainly focuses at providing the managing platform for rental details, selling new building, advertising the existing buildings etc. Also, it provides an effective searching tool which helps to search building by different categories such as building name, building description, builder name, etc.
You can download the full project report and documentation file of project from the download links in the post. At this moment, the source code of the project is not available for download. Below, I have briefly introduced the features and scopes of ASP.NET project on Online building management system.
Download Online Building Management System Project in ASP.NET with Project Report and Documentation
[sociallocker]
Download Online Building Management System Project in ASP.NET with Project Report and Documentation
[/sociallocker]
About Online Building Management System:
Nowadays, buildings are constructed not only for residential purpose but also to commercialize them, i.e. to make them available for renting. The building owner need to keep a lot of details of clients and may need to publish notice. The manual system of data recording and account management is tedious and time consuming. This creates a necessity of some automatic and online system of building management.
Proposed System:
The proposed project is a management project designed to solve the problems regarding house renting. As the use of internet is rapidly increasing, the demand of online working software is also growing fast. Online Building Management System, being a web-based software, can be logged on from anywhere and creates an easy advertising platform for rental buildings.
The main aim of the project is to provide quality of works through online working basis. In the project, it has been thrived to facilitate a quality renting service to the clients. The major objectives of building management system in ASP.NET are listed below:
To maintain and enhance the increased building reputation.
To provide different types of building facilities easily and reliably.
To easily handle the different types of transaction such as income, expenditure, voucher and receipt.
To increase building management through online basis.
System Requirements:
Hardware Requirements:
Pentium 4.0 or higher; Recommended: 1GHz processor
Ram: 512 MB
Hard Disk: 1GB or higher
Software Requirements:
Operating System: Microsoft Windows XP SP2 onwards
Database: Microsoft SQL Server 2005
Browser: Mozilla Firefox 2.0 Onwards /Internet Explorer 7.0 Onwards, Google chrome, Safari, Opera
Client Configuration:
Processor: PC with a Intel i5, 800 MHz processorRecommended: 2.2 GHz processor
RAM: 4GB or onwards recommended
Hard Disk: 1GB of available space required on system drive of available space or more
Operating System: Windows XP Service Pack 2, Windows Server 2003 Service  Pack 1, Windows-7 or later versions
Access: Microsoft SQL
Browser: Mozilla Firefox 2.0 /Internet Explorer 7.0 Onwards with Player  Plug-in 9.0 or onwards.
Here's a sample screenshot of the system: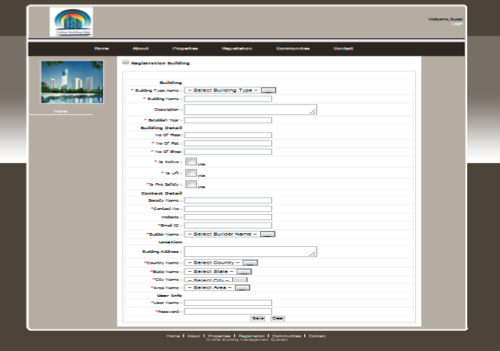 Also see,
Timesheet Management System
City Bus Management System
More ASP.NET Projects
Conclusion:
Online Building Management System is the solution of existing problems in building renting and hiring through online working platform. The growing interest in internet confirms the good scopes and bright future of this proposed project. This project is very flexible to add new features and modules in order to meet user requirements in future.