Block Call is an android app developed for the purpose of blocking unwanted incoming calls. It mainly focuses at rejecting specific partial caller IDs as incoming calls. The application promotes the use of voice mail or sms rather than making calls. Block Call applications are mostly used by politicians, businessmen, brokers, criminals, etc.
The project is basically for android cell phones and tablets. You can access the complete source code and project files of this android app project from the download links in this post. Below, I have briefly introduced the features and scope of Block Call app.
Download Block Call Android Project with Source Code
[sociallocker]
Download Block Call Android Project with Source Code
[/sociallocker]
Block Call App Project Abstract: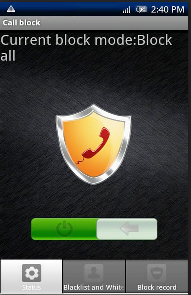 With the growing completion among cell phone companies as well as telecommunication companies, a large numbers of new facilities are being launched. One of them is Block Call facility which is provided by cell phones and telecommunication companies. As the most of the telecommunication companies offer extra charge to block the calls, an android app like Block Call is preferred.
Most of the politicians, businessmen, high ranked government officers, etc. remain busy during day time in meetings, appointments and functions. They don't have time to receive the calls although they get a large number of calls repeatedly. So, in order to limit the number of calls in cell phones, it is required to use call blocking services.
There are various purposes of making calls which may be useful or harmful. And, it is not necessary to receive all the calls that come to your cell phones. Sometimes you may not be in the mood of talking to someone or you may be tired of talking. In such cases, certain users need be blocked; this android app aims at providing this facility.
Features:
It provides facility to add unwanted numbers to Block list.
It doesn't require any extra charge to block the calls.
Using this app, any number of caller IDs can be blocked and unblocked at any time.
It is easy to download and install.
Being an android app, Block Call works on all android platform software phones.
Also see,
Class Timetable Android Project
SmartFTP Client Android App
More Android Projects
Conclusion:
Before using this Block Call Android Application, you need to download and install the application in your phone device. After the successful installation of application, you can add any of your contacts to black list or block list. The blocked numbers are denied by the operating system of the cell phones and you won't need to receive the calls.