Web Grabber is a utility software developed using C# (.Net) framework on Windows XP platform. The main aim of the project is to create a platform for downloading web pages for offline viewing. It can be used at home, office, organization, etc. for downloading and saving the website so that they can be accessed when internet connection is not available. This desktop application can download a page or even an entire site easily.
Only the project report of Web Grabber Application is available for download at the moment. The source code is not available; if found, it will be updated in the download link. This project is just for reference purpose. You can refer the description provided here as a general abstract of this project.
Download Web Grabber in ASP.NET with Project Report
[sociallocker]
Download Web Grabber in ASP.NET with Project Report
[/sociallocker]
About Web Grabber Project:
Web Grabber is simply a desktop application based on windows platform for downloading websites to browse at offline condition. This utility software can quickly download entire website or part of a site including HTML, graphics, Java Applets, sound, and other user definable files. It saves all the files in the hard drive in their native format.
The program reconstructs and creates all the downloaded links as a complete hard drive copy of site so that the website can be browsed offline. Additionally, web grabber application software duplicates the original directory structure of a site making it easy to download and transfers a site to another server.
Downloading web pages and all their supporting files (such as graphic files, sound files, etc.) manually is inconvenient, time consuming and frustrating. Web Grabber addresses these problems by allowing you to download a quantity of information or an entire website to your hard drive. With the implementation of this application, each file on the website doesn't need to be downloaded separately.
Using Web Grabber Software, downloading can be done in off-peak hours when access lines are available and less expensive. The data may then be edited, browsed, studied, or used offline in any way at your convenience. This makes the use and modification of the information gathered more economical and efficient. Web Grabber is simple to use and cost effective for anyone working with web content.
Features:
The key features of Web Grabber project can be outlined as:
Pages are downloaded easily; the software can download a single page or an entire website.
Directory tree on the local machine is created automatically to match the downloaded site.
URLs that refer to downloaded pages are translated automatically.
Images can be downloaded with pages; this is a settable feature.
Site configuration can be programmed and stored, and can be accessed later from a menu.
Web browser can be accessed from Web Grabber application.
Here's a sample screenshot of this application: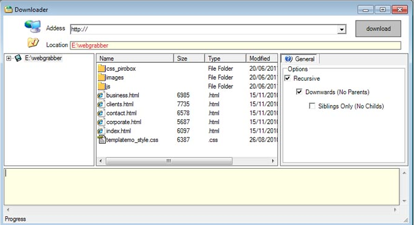 System Specifications:
1. Hardware Requirements:
Microprocessor   :            Intel core  i3
RAM                       :             4 GB
Hard disk             :          500 GB
Keyboard              :          Standard Notebook  Keyboard
Display                 :          14'6 LCD
2. Software Requirements:
Operating System              :            Windows based OS
Front end                            :             .NET
Back end                             :               SQL server 2008
Also see,
Web Server Management Project
Client Server Communication
More ASP.NET Projects
Conclusion:
This Web Grabber application is feasible by all means both economically and legally. The project development has no extra expenditure. All development tools used are licensed products. Everybody can utilize the services provided by this product by installing the software.
It provides is a complete utility software package to download and save websites for offline browsing. It can be installed in any computer fulfilling the mentioned system requirements. As the field of application of computer is extremely large, the proposed software project seems to have good scope.