Named "Face Identification Project for Crime Inspection", this Crime Management System is an application software designed in VB.NET to identify the suspected faces. The project focuses at generating an application file that is capable of image processing to recognize the faces, and identify the suspected persons. This kind of software is mainly used by crime investigation departments, polices, private detectives, etc. It also possesses a great significance in collecting testimony in legal system.
This project is complete with all resources. You can access the complete source code, database, project report, documentation, and other necessary project files of Face Identification VB.NET project from the download links in this post. I've briefly introduced the project abstract, features and working mechanism of this project below.
Download Crime Management System Project in VB.NET with Source Code, Database, Project Report, and Documentation
[sociallocker]
Download Crime Management System Project in VB.NET with Source Code, Database, Project Report, and Documentation
[/sociallocker]
About Crime Management System:
With the development of technology, a number of manual systems are being replaced by modern technological methods in different fields and sectors. Within the last few decades, there has been a revolutionary change in many sectors such as teaching-learning, communication, photography etc. One of these sectors is crime investigation procedure which is utilizing modern equipment such as image processor, face identification software, and other methods to assist in crime inspection.
Existing System:
The traditional manual system of face identification has a large number of drawbacks such as requirement of large number of narrators to describe a single image, non-supportive methods to crop image of criminals, and many more. Further, manual investigation system seems to totally rely on human manpower; it is an uneconomical and time consuming approach.
Proposed System:
The proposed Face Identification software aims at identifying a suspected person or a criminal using image processing techniques along with witness descriptions. This project is not only limited to face identification of criminal as the evidences generated with this software can be used in legal procedures as well.
Features:
Listed below are the major features of this project. There are many other minor features; you can find the detailed description about features/modules/operations of this application in the project report.
Face Identification software utilizes the image processing technology to identify the suspected faces.
The software works even when the witness remembers a part of a criminal's face.
Using this face identification application, the cropped image of criminal can also be processed.
It is faster and gives much better result than the manual system.
Only a few narrators are sufficient to generate an image.
How Crime Management System Works:
The human face images are obtained form different sources such as CCD cameras, Digital cameras, stored image files, scanners and Cam coders.
These image files are the digitized and stored in the memory of the system.
After that, image processing is done and each video frame is segmented into various parts.
Then, facial features such as forehead, eyes, ears, mouth, etc. are created. These file are further reconstructed to match the witness descriptions.
Screenshots: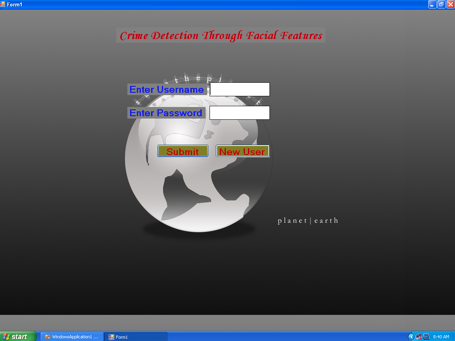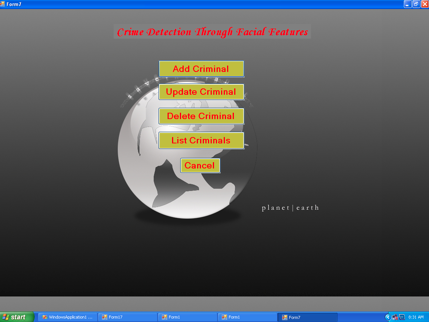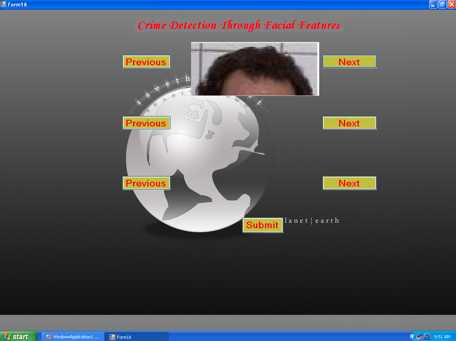 Also see,
Supermarket Management System
Blood Bank Management System
More VB.NET Projects
Conclusion:
From security point, crime management system project uses password system; users' face is used as password to ensure security of files and documents of the system. Hence, only certified users can log in to this software application. This proposed system has a wide scope in crime inspection fields; it is easy to handle and manage; it is economical, saves time as well as manual labor.